Bromley waste collection delays
– 1 September 2016
Every day, Bromley Council's crews successfully make around 70,000 refuse or recycling collections, but even though the 'missed' rate is very small, they fully understand the irritation this causes.
From an operational point of view, sometimes these 'missed' reports coming in aren't actually 'misses' at all, rather presumed misses as a result of a late or incomplete round by way of unavoidable causes such as illness, mechanical difficulties, vehicle breakdown or accident.
In an effort to improve communication flow and reduce the number of premature reports, the Council has recently started a trial to publish this information on their website as a way of notifying residents when there is a specific problem.
If collections have been disrupted, it is now possible to see this information in virtual 'real time' on our household waste and recycling page from roughly 09:00 onwards each working day. You can view this information by visiting www.bromley.gov.uk/WasteCollectionDelays. Please do check this before reporting a missed collection.
To report a missed collection, visit www.bromley.gov.uk/report where you will also be able to see other service problems too.
Council Services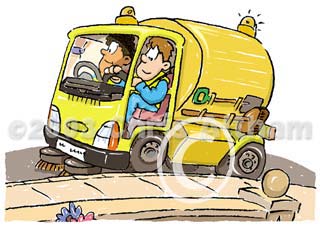 Problems with Council services can be reported using the following contact details.
All non-emergency problems can be reported to Bromley's Customer Service centre email csc@bromley.gov.uk. or on 020 8464 3333.

(The out-of-hours emergency number for the Council is 020 8464 4848.)
Untidy Street?
Why not become a 'Street Friend' with Bromley Council? No onerous duties at all! merely undertake to report any problems in your road to the Council so they can be attended to quickly. Information about Street Friends can be found here. Problems can be reported to the Council here.
To help residents keep the area clean, here are details of when the paths and carriageways of principal roads in our area should be swept – if the Council's contractors don't sweep on the allotted day, please report it to the Council.
| | | |
| --- | --- | --- |
| Pathway | Day | Frequency |
| Beckenham Lane | | Daily |
| Bromley Avenue | Mon | Fortnightly |
| Downs Hill | Fri | Weekly |
| Farnaby Road | Tues | Weekly |
| Highland Road | Tues | Weekly |
| Madeira Avenue | Tues | Weekly |
| Oaklands Road | Tues | Weekly |
| Ravensbourne Avenue | Tues | Weekly |
| Warren Avenue | Mon | Fortnightly |
| | | |
| --- | --- | --- |
| Carriageway | Day | Frequency |
| Beckenham Lane | Tues | Weekly |
| Bromley Avenue | Mon | Monthly |
| Downs Hill | Fri | Fortnightly |
| Farnaby Road | Tues | Monthly |
| Highland Road | Tues | Monthly |
| Madeira Avenue | Tues | Monthly |
| Oaklands Road | Tues | Monthly |
| Ravensbourne Avenue | Tues | Monthly |
| Warren Avenue | Mon | Monthly |